Choose the right size for you following the simple guidelines below: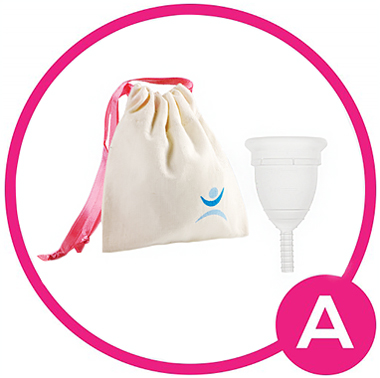 Choose Size A if you:
Are 30 and over
OR
Have given birth vaginally whatever your age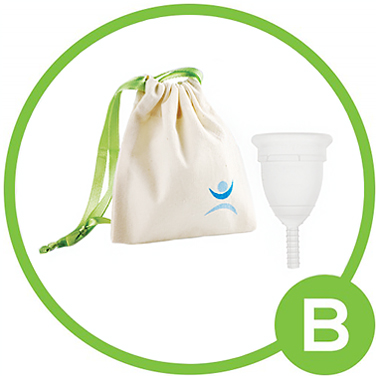 Choose Size B if you:
Are under 30 & have not given birth vaginally
WHY BUY A MOONCUP MENSTRUAL CUP?
The Mooncup® is the original silicone menstrual cup. It was designed by women as a convenient, safe and eco-friendly alternative to tampons and pads. Tried and trusted since 2002 by millions of users around the world, the Mooncup menstrual cup offers an end to the waste, discomfort, and expense of disposable sanitary protection. The Mooncup is made in the UK to the highest quality standards and lasts for years.
Comfortable
Made from soft, medical-grade silicone, its so comfortable you cant feel its there. While tampons absorb 35% vaginal moisture, the Mooncup menstrual cup wont dry you out or leave fibres behind.
Reliable
Your Mooncup is always there, ready. No last-minute dash to the shops, no stockpiling different absorbency pads or tampons. Holding 3 x more than a regular tampon, the Mooncup gives you longer lasting protection on heavier days. And as its non-absorbent, its great to for light days too.
Money-saving
You only need one Mooncup® that pays for itself after 6-8 months youre then saving that monthly spend on sanitary protection.
We are here for you
We are here for your Mooncup journey. We offer a unique Advice Service run by medical health professionals who can be contacted with any Mooncup usage queries here to help you make the switch.
More than just a Edit Edit Product
The Mooncup is manufactured in the UK to the highest quality standards. We are an employee owned business and the first sanitary protection manufacturer in the world to be certified as an Ethical Business.
No reviews have been left for this product, be the first to
leave a review
| | |
| --- | --- |
| GTIN | 5060053021112 |
| Brand | Mooncup |
| Product Code | 480569 |